Become a Createwills Agent
---
Earn while you help others
What We Offer
Createwills offers both Al Yusra Islamic Will and Sterling Standard Wills at a fraction of the price of the competition. Our feature-rich Wills meet the requirements of every people group. For anybody with bespoke needs, we have a panel of lawyers who can cover any of their requirements. This panel also covers probate and letters of administration.
Try our Will offering for free, simply use the link, create an account and walk through the simple process. https://app.createwills.my/register
When you're with us, you'll be able to start making new Will sales right away. Register new customers from your laptop, computer or mobile device and see their progress. With our fully transparent reports, you are even able to keep track of sales and commissions online and use the portal to manage your customer relationships and accounts.
Here's something to shout about to your clients
Created with you in mind
Every change to your customers' Wills is saved automatically in the cloud. With their data being stored on our secure servers.
It lets you do everything by touch
Your clients can make changes later from their phone, tablet or desktop computer.
It works just like your favourite apps
We've designed it to look just like the apps you use every day. It's feature-rich but using it is child's play.
100% compliant with State Law
Our framework has been meticulously put together with backing from law experts and Islamic scholars
It stays up-to-date automatically
When the law changes, we add those updates to our software and notify you if necessary
Some ways we make it so easy for agents
• An untapped marketplace
• Purpose-built platform
• No Annual Membership Fees
• Selling pack and presentation
• Fully supported virtual Selling
• Agent direct payments
• Create a network of agents
• Earn commission as you sell
• No limit to what can be earned
• Up-sell other estate needs
• Security of full compliance for Standard and Al Yusra Wills
• Free downloadable guides
• Sell from a customer link, online marketing or face to face
• Walk-through video helps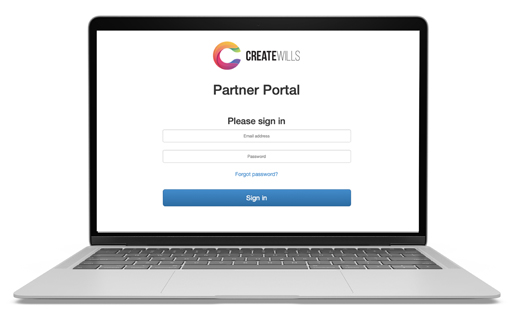 Accessing the agent portal
To gain access to your agent portal, simply click the link below.